As we reflect on this past year and approach the 2021 convocation – UBC graduation – we are excited to highlight stories from some of UBC Okanagan's newest co-op graduates. Through their Co-op work experiences, students demonstrate a curiosity for relevant and thought-provoking experiences, have had opportunity to reflect on personal and professional strengths and skills, and are taking initiative to explore many opportunities ahead.
To celebrate the accomplishments and collective hard work of these students, the Interdisciplinary Co-op Program office is excited to share some highlights from the graduates of 2021!
Breanne Ruskowsky, Bachelor of Management '21
Breanne completed an 8-month Co-op position as a Human Resources Coordinator at Irwin's Safety and a 4-month Co-op position as a Learning Technology Rover at UBC's Centre for Teaching and Learning.
"Throughout my Co-op experience, I was able to secure two different positions that complimented my academic studies. My first position was as a Human Resources Coordinator with Irwin's Safety. In this position, my main responsibility was to organize and implement hiring, training, and scheduling for employees with the company. This position provided me with high autonomy, and developed key skills such as adaptability, problem solving, and time-management.  In my second co-op position, I had the opportunity to work as Learning Technologies Rover with the University of British Columbia. This position focused on providing just-in-time technical support for faculty and staff across the campus. I was able support the university during the critical transition to online learning due to Covid-19, and had the opportunity to focus on developing my technical skills in this position. My problem-solving abilities were critical, and I was also able to develop my written and verbal communication skills in both one-on-one situations, and when delivering instruction to a larger audience.  As a Management student, growth and development in varying positions can be key to helping shape your skillset and leadership style. The co-op program has helped provide a desired direction for the application of my degree through offering me two very different positions in very different companies, and the skills and experiences I have had will provide the support I need to enter the workforce confidently after graduation. I am incredibly grateful for opportunity the co-op program has given me, and I know that these experiences will shape my future career."
Megan Tezram, Bachelor of Science '21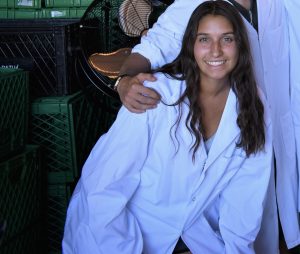 Megan completed a 4-month Co-op position as a Fisheries and Aquatic Ecosystem Assistant with the Ministry of Forests, Lands, Natural Resource Operations and Rural Development and 8-months at Agriculture and Agri-Food Canada in the tree fruit breeding program as a Co-op Research Assistant.
"I joined Co-op in the hopes of the program helping me determine potential career options and what I would be interested in upon graduating.  My first work term involved working with BC Ministry of Forests, Lands, Natural Resource Operations and Rural Development where I worked in the fisheries and ecosystem departments. This provided me with great hands-on experience with freshwater fish and ecosystems. I learned about the invasive fish species in Okanagan lakes and the impacts created by these introduced species, and conducted angler surveys, dam surveillance and maintenance, stream flow monitoring, vertebrate dissections and eDNA water collection and filtering.  My next two work terms were at Agriculture and Agri-Food Canada in the tree fruit breeding program. This provided me with tons of experience working in the field and in a lab. I learned about the genetics of cherries and apples and the process behind obtaining desirable fruit through varying phenotypes. I was able to test the firmness, soluble sugars, iodine and chlorophyl content of the fruit to assess the quality and also got experience working in the field  obtaining fruit and maintaining the fields. After finishing the co-op program, I left with a broader set of skills in my field of study. I gained hands-on experience in different jobs that I would not have been able to otherwise. Not only did the co-op program help me gain this experience but it also helped me gain skills in writing resumes and cover letters, applying for jobs and prepping for interviews. These are skills I have struggled with in the past and will be important when finding my future jobs. Leaving co-op, I have a clearer understanding about what I am looking for in my future employment and what I am interested in pursuing."
Eric Phung,  Bachelor of Management '21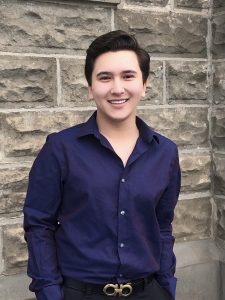 Eric completed 12-months of Co-op experience with Pela as a Junior Accountant.
"Deciding to do the Co-op designation was one of the greatest decisions I have made academically. The program gave me the opportunity to work for one of Canada's fastest growing companies, Pela. Working for Pela allowed me to grow my skills in accounting, but also in other departments within the company. The culture at Pela was truly one of a kind with a supportive team fostering creativity and supporting my personal growth. It was amazing to see the entrepreneurial side of the company and a team all driven by a mission to create a waste free future. I am grateful for all that I have learned during my Co-op, and I am happy I could also meet some amazing people along the way."
58 students from the UBC Okanagan Interdisciplinary Co-op Program are earning their Co-op Designation this June, and joining a community of more than 350,000 UBC alumni living across 148 countries. Collectively, working in organizations from Coast to Coast, and across the globe, these new Co-op graduates have made impactful contributions to entrepreneurial start-ups, large multi-national organizations, non-profits, government organizations, and research labs. To all of these organizations involved in work integrated learning who have supported these Co-op experiences – thank you – you have provided these now graduates with truly enriching opportunities.
To the graduates of 2021, wherever your journey takes you next, we hope you never stop learning and that you continue to seek out new opportunities that challenge and inspire you. We are excited to see the impact you will make in the years to come. We wish you a most sincere congratulations on your achievements!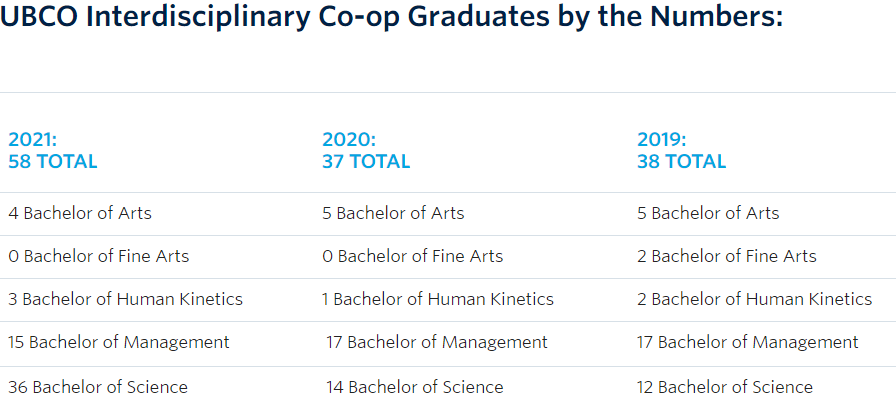 If you are a prospective student, community partner, or alumni and want to learn more about getting involved in the Co-op program, please do not hesitate to reach out to the Co-op Program Office at coop.ok@ubc.ca.