This year, the BC Association for Co-operative Education and Work Integrated Learning, (ACE-WIL) introduced an initiative to showcase the impact and innovation that post secondary students continue to bring to organizations across the province, despite the unique challenges presented by COVID-19.
ACE-WIL received 70 submissions for the IMPACT awards and the UBC Okanagan Co-op Office is pleased to share that of the five selected winners across the province, two recipients were from the UBCO campus, along with an additional honourable mention. This is a true testament to the impact and meaningful contributions work integrated learning students have on the organizations they work with.
Keep reading to learn more about the featured IMPACT winners from UBC Okanagan:
Shiven Khera, Management Co-op Student at UBC Okanagan 
Shiven is a Management Co-op student who worked with UBC on a partnership project with a local food bank to develop a new donation management system during an increase in demand during COVID-19.
Shiven's employer Dr. Eric Li submitted this story on Shiven's behalf:
"My student and I are partnering with a local Food Bank to co-develop a new donation management system. Since the beginning of COVID-19, Food Banks in Canada experienced a dramatic increase in demand. Our system will help our Food Bank partner to better predict the supply and demand of food as well as better track the expiration of food to minimize food waste. Our partner managed over CAD7 million value of food every year and served over 1,500 families in the region. Our system will digitize the food re-distribution and donation tracking system. In the next phase of the implementation, we will connect with local farmers to facilitate the surplus of the farm produced. In average, 17 to 19 percent of the produced was wasted at the farm level, our multi-agent donation management system aims to reduce at least 50% of the farm-waste by connecting the farmers with the local food bank. Unlike the commercialized inventory management system, our donation management system will be the first Canadian-based system that co-developed by Food Bank and an university research team. All our logic and system are customized for Food Bank and other non-profit organization operations."
ACE-WIL asked Dr. Li how the project started and he notes that Shiven was always interested in food management so he thought of Shiven when the inventory management project came along.
"One of the challenges they experience is that most of the food bank is running on a voluntary basis with high turnover between volunteers. So, capturing the donations is always not their priority." Says Dr. Li.
The food bank processes around CAD7 million worth of food every year and serves over 1,500 families in the Okanagan region. This digitized inventory management system will leave a lasting impact as it can track donations and food expiration, thus eliminating waste.
"I think this project helped understand how development really works and how to take an idea and make it into an actual platform." says Shiven when reflecting on his co-op experience.
Congratulations Shiven Khera & Dr. Eric Li!
Sheldon Langlois, Microbiology Co-op Student at UBC Okanagan
Sheldon was a Microbiology co-op student at Interior Health Authority who increased the efficiency of the Medical Laboratory Technicians, by performing PCR (polymerase chain reaction) on COVID, flu, and GI (gastrointestinal) parasite specimens during nights, which allowed for testing to be done 24/7.
"I started my position at Interior Health Authority mid-pandemic when the amount of COVID in the province was at a peak. I was hired to help decrease the workload of the Medical Laboratory Technicians, by performing PCR (polymerase chain reaction) on COVID, flu, and GI (gastrointestinal) parasite specimens during nights, which allowed for testing to be done 24/7. By having me work nights, the output of COVID results shot up, meaning people no longer had to wait multiple weeks to receive their diagnosis. After a couple weeks, I became specialized on 3 different PCR machines and was in steady communication with the medical doctors in hospital for specimen expedition. This was the first time a Co-op student held this position and the hospital very much appreciated my ability to uphold a high workload, thereupon granted me another work term."
"I got offered the position during the pandemic in the PCR lab performing polymerase chain reaction which amplifies the DNA of COVID to detect COVID in patients in the interior." says Sheldon.
Sheldon added a lot of much needed capacity to the lab since they "were knee-deep in COVID samples and we have a shortage of medical technologists that can perform the testing" says Chandra Hauer, medical laboratory technologist and tech lead of the PCR department at Kelowna General Hospital.
But Sheldon didn't just bring capacity to the team, Chandra notes that "he actually taught us a lot." and his performance opened up new doors in the field since the hospital is now open to hiring bachelors of science students to perform testing instead of just medical technologists.
Sheldon, a microbiology student at UBC-O, never imagined being a medical technologist as a career but, "I now see laboratory professionals and careers in the laboratory as a whole new possibility" says Sheldon.
Congratulations Sheldon Langois & Chandra Hauer!
Honourable Mention: Robin Metcalfe, Masters of Social Work Practicum Student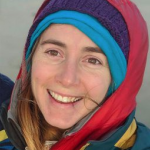 Outside of Co-op, there are a number of other work integrated learning experiences for students to contribute meaningfully in the community. Robin Metcalfe, a masters of social work student at UBC-O also  won an honourable mention for her story about creating a multimedia resource for health researchers to be more inclusive of deaf and disabled folks in research. Robin worked closely with her supervisor, Dr. Rachelle Hole, Associate Professor and co-director at the Canadian Institute for Inclusion and Citizenship.
The story Robin submitted was:
"The project I contributed to is a multimedia resource that supports health researchers to engage people with disabilities as participants and co-researchers in health research. Deaf and disabled people have largely been excluded from participation in research, which has resulted in a lack of understanding about health experience and a lack of knowledge from which to draw in addressing health needs of Deaf and disabled folks. This project uplifts the value of supported, meaningful engagement in deciding research priorities, co-creating knowledge with researchers as partners, and identifying ways to mobilise that knowledge and make it accessible. The project leadership reflects these priorities; disabled and Deaf health sector, university, and community partners have collaborated to make digital animations, and there could not be a better learning experience than seeing and participating in a team that models the values and imperatives of inclusion this project envisions."
When asked about the impact of the project in light of the pandemic Robin notes, " We were actually experiencing some of the direct impacts of the lack of inclusion of deaf and disabled folks in health research and health decision making. So in the course of the pandemic unfolding here and the kind of responses that were taking place it was clear that deaf and disabled folks weren't being included."
The project created modules on topics about the importance of culture and language, the history of deafness in North America and how to be an ally and partner with the deaf community.
Congratulations Robin Metcalfe & Dr. Rachelle Hole!
Learn more about the IMPACT 2020: WIL Student Story Showcase Project and the other recipients and honorable mentions here, on ACE-WIL BC's website.
On behalf of the UBC Okanagan Co-op program, we would like to share our sincere congratulations to the IMPACT 2020 recipients and students working throughout the province that continue to persevere for the good of their communities during these trying times.
If you are a prospective student, community partner, or alumni and want to learn more about getting involved in the Co-op program or other forms of work integrated learning at UBCO, please do not hesitate to reach out to the Co-op Program Office at coop.ok@ubc.ca.