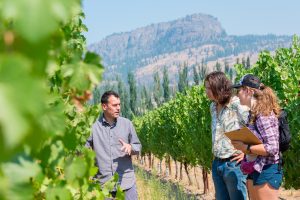 UBC Okanagan Interdisciplinary Co-op Program continues to enhance, support, broaden and explore new relationships with community, and collaborate with partner organizations to develop a wide range of meaningful work experiences for students. Through co-operative education students have the opportunity to 'learn by doing', enhancing career pathways and possibilities, and infusing a passion for reflective learning. As part of BC's Ministry of Advanced Education and Skills Training Co-op and Work Integrated Learning (WIL) initiative seeking to develop and grow applied learning opportunities for students, the Interdisciplinary Co-op Program is leading three project initiatives: 
Establishment of an innovative industry-focused

Wine Sector Co-op Program

, led from the

Social and Economic Change Laboratory (SE-Change)

in collaboration with the

UBC Wine Research Centre

. 

 

Creation of two new Indigenous Co-op Coordinator positions, spanning both Okanagan and Vancouver campuses – Arts Co-op, Applied Science Co-op and Interdisciplinary Co-op, to support Indigenous students engaging in co-op and to collaborate with a variety of internal and external stakeholders in stewarding relationships with Indigenous communities and organizations.

 

Enhanced support for small and medium-sized organizations (SMEs) in the Interior and Northern regions of BC, including those in remote and rural communities, to better understand and address barriers of engagement in work-integrated learning programming such as co-op. 

T

h

i

s

i

n

c

l

u

d

e

s

a

c

c

e

s

s

t

o

a

r

e

s

o

u

r

c

e

hub and job-posting portal

t

a

i

l

o

r

e

d

to

S

M

E

s

,

h

a

n

d

s

–

o

n

s

u

p

p

o

r

t

in drafting and reviewing job descriptions,

and

increasing brand awareness on campus

for local

organization

s

.

The Interior and Northern Work Integrated Learning Initiative

is a collaborative project between

UBC Okanagan

,

University of Northern BC

,

Thompson Rivers University

.

 To learn more about the initiative, click here.
"This funding gives students remarkable opportunities to learn through co-op education connected to communities, organizations and sectors throughout BC."

– Dr. Roger Sugden, Dean, Faculty of Management at UBC Okanagan.
Dr. Sugden further notes, "By addressing the barriers to engagement for small- and medium-sized organizations, piloting new programming that crosses disciplinary boundaries, and supporting a sector-specific co-op specialization, the funding helps us to create innovative student learning opportunities that dovetail with the changing needs and developments of regionally-based organizations."
These project initiatives underscore the opportunities related to enhancing experiential and work-integrated learning opportunities for students at UBC, as outlined in Shaping UBC's Next Century.  
Eleven projects at UBC are amongst the forty-six across BC's twenty-five public post-secondary institutions, which are being supported through this $5.5-million investment from BC's Ministry of Advanced Education and Skills Training.