Bachelor of Management student Aurora Gardiner reflects on how stepping outside her comfort zone helped her to develop both personally and professionally.
Aurora Gardiner is a fourth-year Bachelor of Management student with a concentration in accounting and economics who was recently engaged in an eight-month co-op work experience with Martin Estate and Injury Law in Vernon, BC. Although originally intending to pursue work experience focused in finance when first joining the UBC-O Interdisciplinary Co-op Education Program, Gardiner reflects on how this diverse experience, and working in a legal environment, has been transformative for both her ongoing work and academic pursuits.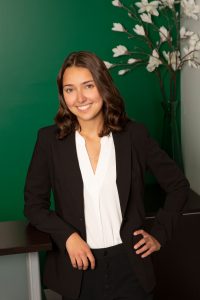 Gardiner was first introduced to the UBC Okanagan Interdisciplinary Co-op Education Program by speaking about it with one of her upper-level undergraduate friends. She recalls, "Learning all about the valuable experiences that the co-op program provided my friend, I was intrigued and knew that I wanted to participate." After learning more, Gardiner decided to apply to the program, as she knew integrating co-op education into her degree would allow her to explore the different career pathways available, while also developing her existing skillset.
Recently looking back on how her experience throughout the program has allowed her to build the knowledge and skills that she had hoped to gain in preparing for a successful job search, Gardiner states, "I was provided with excellent supports, which allowed me to tailor my resume and cover letter to the positions to which I was applying. In particular, the peer interview practice sessions played a big role in ensuring that I was prepared to succeed during the recruitment process."
During her job search, Gardiner kept her mind open to new opportunities, noting, "When I saw a job posting about working at a law firm, that really caught my eye as it was so unique from my initial perception of my first co-op role. I never thought that I would be able to do things like participate in client meetings and be directly involved with the delivery of a professional service."
This particular experience had Gardiner accepting a role that was both outside of her comfort zone and in a field she initially did not see herself exploring. She describes, "Going into the Co-op program and being a natural introvert, I didn't have much interest in selecting a work term that included 'client interaction' as a day-to-day responsibility in the job description as this was something I was never comfortable, or familiar with. Ultimately, I saw the potential to really build upon skills I felt I could improve upon, such as communication."
Within the time of her first two co-op work terms as a legal assistant, Gardiner was immersed in the fast-paced environment of a law firm and learned to quickly adapt to meet client demands. She was also exposed to many complex processes such as drafting wills, business incorporations and legal research. She expresses, "Building my knowledge and confidence in these new areas was something that I never thought I was capable of doing as a student." Moreover, this work term allowed Gardiner to gain experience working with cross-functional teams in the accounting, human resources and marketing departments.
The opportunity to contribute to these other departments, Gardiner expresses, "Opened doors to a wide range of other potential career opportunities."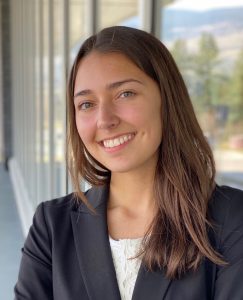 The variety of work within her co-op role, including the dynamic day-to-day tasks along with challenging work that she encountered in the workplace helped Gardiner to realize that there is no limit to what one can achieve after graduation. While thinking back on her time at the law firm, Gardiner considers how she was not only able to gain experience in a professional work environment but also develop academically and personally. "This experience has helped me acquire new knowledge while broadening my skills; both of which will not only be transferable to my next co-op work term and beyond, but also applicable within my academics."
Gardiner also reflects on how the co-op work term has contributed to her personal growth both inside and outside of the classroom: "Although the transition from the classroom to a full time work environment felt daunting at first, I found that with my daily engagements with clients and continuous support from my supervisors, communication became something that I now consider a strength of mine." She notes further, "The constant flow of communication that takes place in a workplace office environment has made me significantly more comfortable and aware of voicing my opinions and engaging others – something that I have struggled with in the past. As I enter the final year of my undergraduate degree, I find that I am more proactive and willing to engage in class discussions and attend a professor's office hours as a result of the confidence I have built during this co-op work experience."
"The co-op program has instilled awareness and confidence in myself, my skills, and abilities needed to build a solid foundation for career development following the completion of my undergraduate degree."

– Aurora Gardiner, fourth-year Bachelor of Management student
Gardiner's advice to other undergraduate students is to not be afraid to consistently challenge yourself, "Co-op is a great way to experience new environments, try something different, and continue to learn." Gardiner also suggests from her experience, "Pursuing experiences that may be outside of your comfort zone can only benefit your personal and professional growth, and open doors to new pathways and opportunities."
Students and community partners wanting to learn more about the UBC-O Interdisciplinary Co-op Education program, can reach out to the Co-op Program Office at coop.ok@ubc.ca https://coop.ok.ubc.ca/