How

Indigenous co-op

alumni

Damyn Libby

prepared for his next chapter through mentorship, learning, and support
This past August, as he settled into a new position in Victoria as a Policy Analyst for the Indigenous Education division of the Ministry of Education and Child Care with the Government of British Columbia, UBC Okanagan Interdisciplinary Co-op Education alumnus Damyn Libby reflected on how far he'd come since his early days as a Bachelor of Arts student.  

"When I started university, I would've never thought this is where I'd end up." Today, Libby and his coworkers are helping to create policy and programming that aims to improve the supports for and success of Indigenous learners, and increase the presence of Indigenous cultures, languages, and traditional knowledge in all K-12 curriculum.  
 Prior to entering university, the Abbotsford-raised Libby recalls beginning to explore his own Indigenous heritage.  "I grew up knowing that I am Indigenous, and my mom and my grandma are both very proud of our Indigenous roots" he says. When Libby took his first Indigenous Studies course, he began to build a deeper awareness and found ways to honour his Indigeneity through continuous learning and community involvement. 
 As a UBC Okanagan Bachelor of Arts student, Libby then decided to pursue a major in Indigenous Studies with a minor in History. This new academic journey ignited his passion to get involved on campus in ways that would allow him to further connect with the Indigenous community. He connected with programming through Indigenous Programs and Services, taking part in smudging ceremonies and connecting with Elders. Libby also co-founded the UBCO chapter of the American Indian Sciences and Engineering Society (AISES); a North American non-profit organization which aims to strengthen the voice and connection amongst Indigenous students in Science, Technology, Engineering and Mathematics. And when it came to preparing for his post-university career, he enrolled in the Interdisciplinary Co-op Education Program—a decision he credits with setting him up for the career he enjoys today.    
Building connection to community through Co-op 
"What I saw as the biggest draw of the co-op program was the option to experience a variety of work environments," he explains. "I wanted to try new things in new areas and see what I liked, and see what stuck with me. And throughout all my different work terms there were little bits and pieces that I took away and use to this day." 
 For his first co-op work experience, Libby spent three months as a Visitor Service Assistant with the Revelstoke Railway Museum, which was the first time he'd experienced working in an office. "I didn't have a whole lot of professional experience," he says. "Before the Co-op Program, I'd worked as a farm labourer and done other odds and ends here and there for the summer. But working at the Revelstoke Railway Museum was kind of my first entry into the workplace." 
 The experience gave him the opportunity to take part in a number of different responsibilities, from updating signage content to researching audio tour technologies and methodologies. During his time with the museum, Libby was able to inspire action towards truth and reconciliation through his contribution to a new land acknowledgement for the museum in partnership with First Nations in the area—the Sinixt, the Secwepemc, the Ktunaxa and the Syilx Nation.  
 Libby was even called upon to present his audio-tour research to the museum's board of directors. "That was super exciting," he reflects. "I remember being so nervous going in front of the board as a 20-year-old. It was a great learning experience."  
Mentorship and learning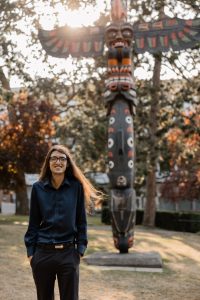 Libby's second placement at FH&P Lawyers in Kelowna exposed him to the world of law, which he'd been contemplating as a possible future endeavour. Over the course of that experience, he became adept at handling the legal software used by the firm, and was retained as a part-time employee once the co-op work term ended. The highlight, he says, was the opportunity to contribute to an article about cannabis dispensaries on First Nations lands to the firm's blog.  
Libby had the opportunity to work alongside Indigenous counsel and strengthen his understanding of the jurisdictional issues facing Indigenous people and their traditional territories, "Being able to apply these learnings in a legal article was a great experience. I worked alongside an Indigenous lawyer on this project, and being mentored by an Indigenous person that worked in the same field that I aspired to work in was amazing," he says.  
 The experience also enhanced his self-assurance about his abilities and what he could accomplish in the future. "It was the first time I ever conducted research in a professional setting, and it helped cement my confidence and foster my understanding of what research looks like in a workplace," he shares.  
 Libby also received some advice from one of the firm's lawyers that he took to heart. "He said, 'Take a break after university before entering law school, evaluate and then go back when you're a little bit older, a little bit more mature, and have really stepped into life,'" he recalls. "That was super valuable mentorship, because I'm loving what I'm doing right now. Maybe in five years I'll go back to pursue law school, but I've set myself up for success now. And I owe the co-op program for that." 
 Libby's third work experience took him to the Elizabeth Fry Society in Kelowna, an advocacy and support organization for survivors of domestic and sexual violence. There, he assisted in marketing and administration—another new experience and set of skills to learn. "It was my first time working in social media and digital and website marketing," he shares. "And it really felt like my work mattered. Speaking with the support staff there, they were all very passionate about the work that they do and how they get to help people each and every day." 
Support at every step
Throughout the recruitment process for these work experiences, Libby relied heavily on support from the Interdisciplinary Co-op Education Office at UBC Okanagan.
"The Program Coordinators were a huge help throughout the program," he shares. "Before I got my first co-op job offer, I spent a lot of time with them editing my resume and cover letter. It was an open-door policy. They helped me prepare for interviews and manage my anxiety." 
Looking back on his time as a co-op student, what stands out, he says, are the "intangible things". Libby notes, "Speaking to people that have a lot of experience in the work that you hope to do, that is huge," he goes on.  During Co-op, Libby held three distinct roles in three different and diverse organizations, which allowed him to build on valuable workplace skills, sample different careers, and build his transition plan for his post-graduation career.
Libby adds, "All of those opportunities furthered my foundation to where I am today." 
Libby recently reflected on the value of diversity in his co-op experiences and academics through his Bachelor of Arts at UBCO — culminating in his first post-graduation role as an Indigenous Youth Engagement Coordinator with Trails BC, where he brought the skills he'd developed during co-op in research, outreach and marketing to the role. 
"When I was first hired, I worked on a policy project to understand some of the inequities around active transportation infrastructure in B.C., and particularly in Indigenous communities," he shares. "Then, when COVID hit, that shifted into doing social media, facilitating speakers and helping with grant applications and project management." This gave Libby the opportunity to establish the TMIX? Trails Project focused on engaging with Indigenous youth and supporting their connection to community. From there, Damyn began his career with the Government of British Columbia as a Community Recovery Coordinator, creating policy frameworks to support B.C. communities, such as Lytton, recover from natural disasters such as wildfires and floods; all of these experiences have led him into the career with the Indigenous Education division that he enjoys today.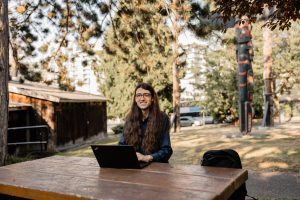 Stepping into the future
Today, in his role with the Government of British Columbia, he's been able to further develop his skills while having the opportunity to create positive change within the community. "I'm in a role that has a lot of potential for impact on future generations. Our education system is so important, and for too long it has let down Indigenous learners. I feel there is real momentum for change and being apart of that change feels amazing. I'm passionate about this work and what it will mean for the next seven generations of Indigenous learners. ," he notes. 
As he embraces his current role, he can't help thinking back to how Interdisciplinary Co-op helped him conquer his anxieties about his career path, and prepare him for this next chapter. 
"There's a lot of anxiety around, 'What am I going to do, after I graduate?'" he notes. "The co-op program is a great bridge to understanding what's on that other side. It helped me a lot mentally to start focusing on post-academic life and to position myself to be successful."
Students and community partners wanting to learn more about the UBC-O Interdisciplinary Co-op Education program, can reach out to the Co-op Program Office at coop.ok@ubc.ca https://coop.ok.ubc.ca/
___________________________________
Photography by Lauren Noel Creative.