Jenna Luis's passions and experience merged in her Vernon, B.C. Co-op experience
As a third-year Creative Writing student at UBC Okanagan with a passion for history, Jenna Luis's recent four-month co-op work term as an interpreter and communications/ marketing assistant with Vernon's Caetani Centre was a natural fit.
"I did writing for social posts, e-newsletters, emails, press releases, so it was very much tied to my studies," she says of her time at the centre. "I also really enjoyed the history side of the job, learning about the history of the area and the Caetani family, and that made it feel more meaningful."
Based in a 125+ year-old heritage home once occupied by the noble Italian Caetani family, the Caetani Centre is owned and operated by the City of Vernon as both a museum and creative residency locale. Its roots in the creative arts go back to Sveva Caetani, the daughter of Leoni and Ofelia Caetani who immigrated to Vernon from Italy in 1921. Following her father's death in 1935, Sveva's life took a dark turn when she was kept a virtual prisoner in the home for more than 25 years by her mother. It wasn't until Ofelia's death in 1960 that Sveva rediscovered her artistic gifts and went on to become a renowned Vernon artist, mentor and teacher.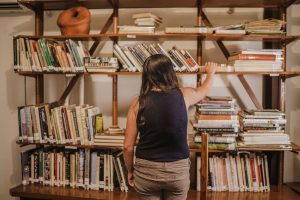 Jenna, who temporarily relocated to Vernon from Kelowna, stayed in the Caetani Centre's artist residences during her 4-month work experience, mingling with visiting artists. "It was great to see all the different styles of art and what they were working with and hear about the projects," she says.
In addition to being steeped in history and the arts, Jenna was able to explore and develop a range of skills during her time at the centre. "I always had a variety of tasks, and the opportunity to expand my skillset," she says. "There was always the chance for a change of pace. I had the opportunity to work on marketing and copywriting to learn more about how these roles supported the Centre. If I wanted to step away from my computer, I could give tours and have an active engagement role with the public. And when there were events, it was nice to be able to take part in another side of the business by helping to set things up and meeting members of the local community."
Jenna also benefited from a supportive and mentoring relationship with her supervisor, who offered practical help and training on marketing and copywriting skills. "It was nice to be working with someone in the industry that I'd like to work in, who knows the standards and the style of writing," Jenna says. "She helped me work on using a more active voice in my writing, how to create a call to action, and how to develop my voice for marketing." Gaining experience using digital software and mastering Meta's business suite also helped Jenna build her resume and gain confidence using different marketing tools.
"This co-op experience gave me a better sense of how I want to develop my career after school," she reflects. "Now, I can envision working with arts and culture organizations, supporting them as a freelance copywriter and marketer. I see more options for my future."
This story is part of a Regional University series showcasing student experiential education experiences as part of an Interior and Northern Region Work Integrated Learning (WIL) Project. To watch the video and learn more about this collaborative project: Interior & Northern B.C – WIL