Fourth-year Bachelor of Management student, Hardikaa Balasubramaniam, becomes the 2022 UBCO Co-op Student of the Year
Pursuing a Bachelor of Management, Hardikaa Balasubramaniam entered the UBCO Interdisciplinary Co-op Program with open-mindedness, curiosity and the desire to explore career options as part of her undergraduate studies. With a passion for technology, she quickly realized that bringing her IT skills to the table together with business acumen gained through her studies was a combination that many employers value. Balasubramaniam used her Co-op work experiences to try out positions in two different organizations, which helped her to determine her areas of preference and starting planning for a career in human resources within the technology industry.
"I feel extremely grateful for all the experiences Co-op allowed me to have and, for that, I am very honoured to receive this award."
– Hardikaa Balasubramaniam, 2022 UBC Okanagan Interdisciplinary Co-op Student of the Year
Balasubramaniam's journey within UBCO has been a success in part due to her strong sense of self-reliance, which helped her to establish herself in her new location and role as a UBCO student. Having completed her secondary studies in Chennai, India, she made the move to the Okanagan on her own and tackled this challenge head on by becoming familiar with the campus and city surroundings and joining clubs and activities to expand her circles. Through a summer exchanged at the London School of Economics in the UK, Balasubramaniam was introduced to hiking, which is a passion that she has explored fully in the Okanagan and helps her to feel grounded in nature.
Balasubramaniam comes from a family line of entrepreneurs in the booming textile industry of Southern India, particularly in manufacturing and exporting. As such, she was naturally drawn to management studies, and was keen to learn about as many business functions as possible. She believed that marketing and project management could be a good fit for her, but wanted to remain open to all possibilities.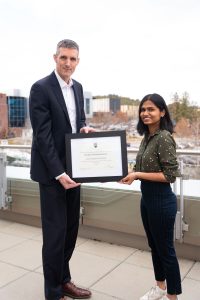 As is the case for many Co-op students, securing the first work can be challenging with limited relevant experience. Balasubramaniam had gained some great experience through her work as a teaching assistant at UBCO as well as a marketing strategist at the UBCO Phoenix (student newspaper) but quickly learned that landing one's dream position in the first work is not always possible; using co-op work terms as stepping stones is a really strategic approach!
Balasubrmaniam's first work term was as a research assistance with UBCO where she worked alongside faculty to explore cost-efficient approach to improve health-related outcomes among adults with spinal cord injuries, as well as a study to explore how COVID-19 had impacted the health, social and economic aspects of tenure-track faculty in public universities in Canada. Through this experience, Balasubramanian grew her confidence and communication skills, and realized a passion for humanistic perspectives. Upon reflection, Balasubramaniam attributes her first co-op work term with providing her the opportunity to strengthen her skills in a role outside of her major and connect with new people, which assisted in obtaining her subsequent work terms within the technology sector.
Balasubramaniam's second and third work terms with Hyper Hippo were pivotal to deepening her understanding of her strengths and competitive edge. Working as People and Culture Co-op position with emerging technology leader Hyper Hippo provided opportunity to delve into the work of human resources in a sector that felt comfortable given her passion for technology. Being part of a small, tight-knit team of professionals, she was exposed to many aspects of the company's work and was able to contribute meaningfully to the company's operations. For example, during her work term with Hyper Hippo, Balasubramaniam completed data analysis on compensation trends, but then went a step further and created coding for future efforts in this area.
"I truly believe that Balasubramaniam is very well deserving of this award."
-Michelle Singular, Human Resource Manager, Hyper Hippo
During her fourth and final work term, Balasubramaniam made the move to Waterloo, Ontario to work as a Talent Development Co-op with technology giant Blackberry where she was advancing the onboarding for new employees. In this role, she had opportunity to connect with Blackberry offices globally and expand her networks. Learning from her previous work terms, she also understood the importance for self-advocacy in co-op placements and successfully navigated discussions with her supervisor to see her role adapted to maximize learning opportunities.
Throughout her co-op experiences, Balasubramaniam had the opportunity to both work alongside UBCO faculty and colleagues in both SMEs and tech giants, providing important insights into the type of work environment she would like to pursue. She has realized that she is inclined towards the more generalist "all hands on deck" reality of a smaller organization over the more hierarchical and specialized roles typically found in large organizations.
For Balasubramaniam, the realization that the interdisciplinary nature of the skill set she brings to an employer is powerful: a passion for human resources paired with knowledge and confidence in technology is a winning combination. These experiences allowed her to gain a deeper understanding of different companies' policies and processes within the technology industry.
Balasubramaniam is thrilled to be this year's recipient of UBC Okanagan Interdisciplinary Co-op Student of The Year Award, and joins three previous award winners over the past three years.  Not only did co-op provide the opportunity for Balasubramaniam to apply what she had been theorizing in her studies but helped her to explore various business functions and identify where her strengths and passions lay. She has gained self-confidence and purpose as a developing professional, advancing her soft skills and humanistic approach, while using her technology acumen to bring innovative solutions to human resource processes. She describes that the co-op program has, "Helped me learn and grow so much as a student, as a professional, and even as an individual. I feel extremely grateful for all the experiences Co-op allowed me to have and, for that, I am very honoured to receive this award."
"I highly encourage students in Co-op to ensure they're utilizing the university's resources and to keep an open mind for new experiences and opportunities," says Balasubramaniam, "being open-minded to exploring different or challenging opportunities during my co-op job search really worked out for me, and it's something I highly recommend all students take advantage of while in the co-op program."
For Balasubramaniam, participating in the Co-op program has not only enhanced her university experience but allowed her to evolve and advance as a young professional, develop her network, and develop a passion that will continue to drive her future ambitions. "Co-op has helped me approach my academic and career pursuits in a new way," says Balasubramaniam of the experience shaping how her degree can be applied in a wide range of career roles, "Being involved in the co-op program has improved my self-awareness and confidence in knowing there are niche areas of management work within the technology industry where I can have meaningful impact and improve the systems to support employees in that sector."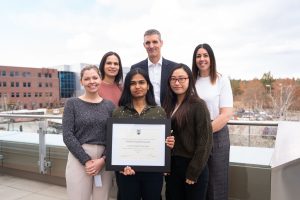 – From left to right, back to front, Jamie Snow, Sandy Hilton, Mandy Little, Meghan Reid, Hardikaa Balasubramaniam, and Jojo Coleman
ABOUT THE UBC OKANAGAN CO-OP STUDENT OF THE YEAR AWARD
UBC Okanagan Interdisciplinary Co-op Education is seeking to recognize a student's personal and professional growth and development through experiential learning. The annual award recognizes one outstanding UBC Okanagan co-op student in recognition of all aspects of their engagement, including academic standing, workplace performance, and professional/community involvement. A big thank you to the co-op faculty advisors for adjudicating all the nomination packages this year.
If you have any questions about the Co-op Student of The Year Award, please contact coop.ok@ubc.ca.