Co-op students pair up to support a local company's vision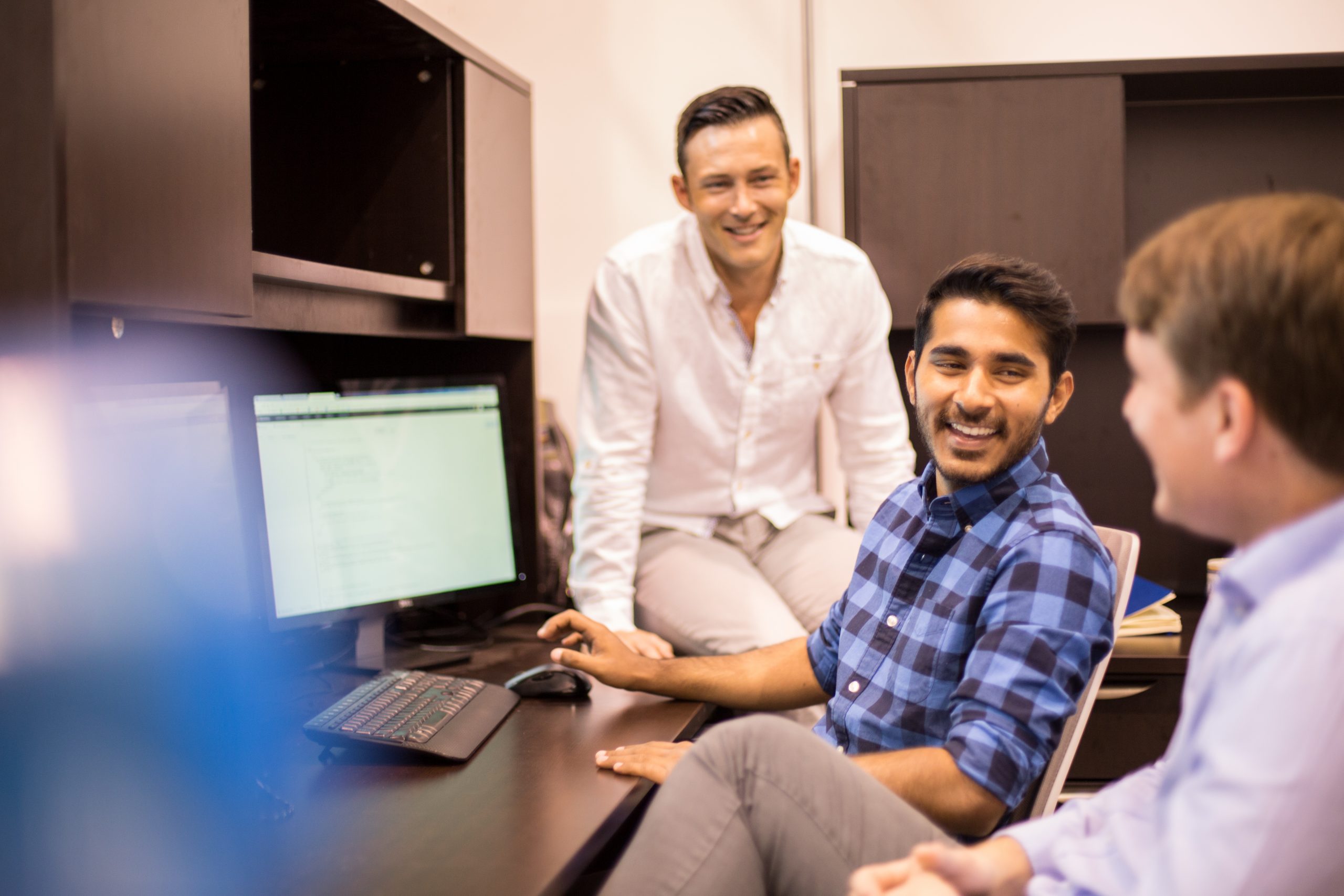 When third-year students Herraj Luhano and Jackson Bonetti were accepted into Co-op Education at UBC's Okanagan campus, they had no idea they would be sharing an office.
Despite being in different programs, the two had known each other already through campus connections. Luhano, a computer science student, and Bonetti, a management student, were hired by Irwin's Safety and Industrial Labour Services specifically to match their diverse skillsets, leading a major website development project last summer.
"In the past, we've used consultants and you don't have access to them on a day-to-day basis. Having students who have the skills that we required, but who also have the time to sit down and understand what we're trying to do with the project, that meant a lot for us," explains Kyle Irwin, President of Irwin's Safety.
The two were tasked with transferring the jobs page of the company's website to a new software, which would allow greater marketing and social media capabilities for recruitment, and create a more user-friendly experience for applicants.
"It's something that we've had on the backburner for quite a while now, and relatively integral to our business moving forward," says Angela Kuefler, Corporate Services Manager for Irwin's Safety. Kuefler played a key role as the company explored the possibilities of Co-op through UBC's Okanagan campus.
"It's been a great opportunity to finally have some people giving their all to get this project off the ground and get it moving forward so we can actually accomplish some important goals."
The students quickly discovered that much of their learning experience would come from one another, as they collaborated and shared their expertise to achieve ambitious company goals.
"Working with Jackson has been really great. There's a marketing aspect of our services that we're trying to incorporate into the web project. That's where we can combine his marketing background with my background. I've gotten to really learn from him and get a new perspective on how to build a product," says Luhano.
Not only did Luhano and Bonetti offer key skillsets for the company, it was clear that the two were a perfect fit for the company culture as well. They could often be seen sharing a laugh with coworkers, and enjoying the relaxed atmosphere of the office as they worked toward important goals.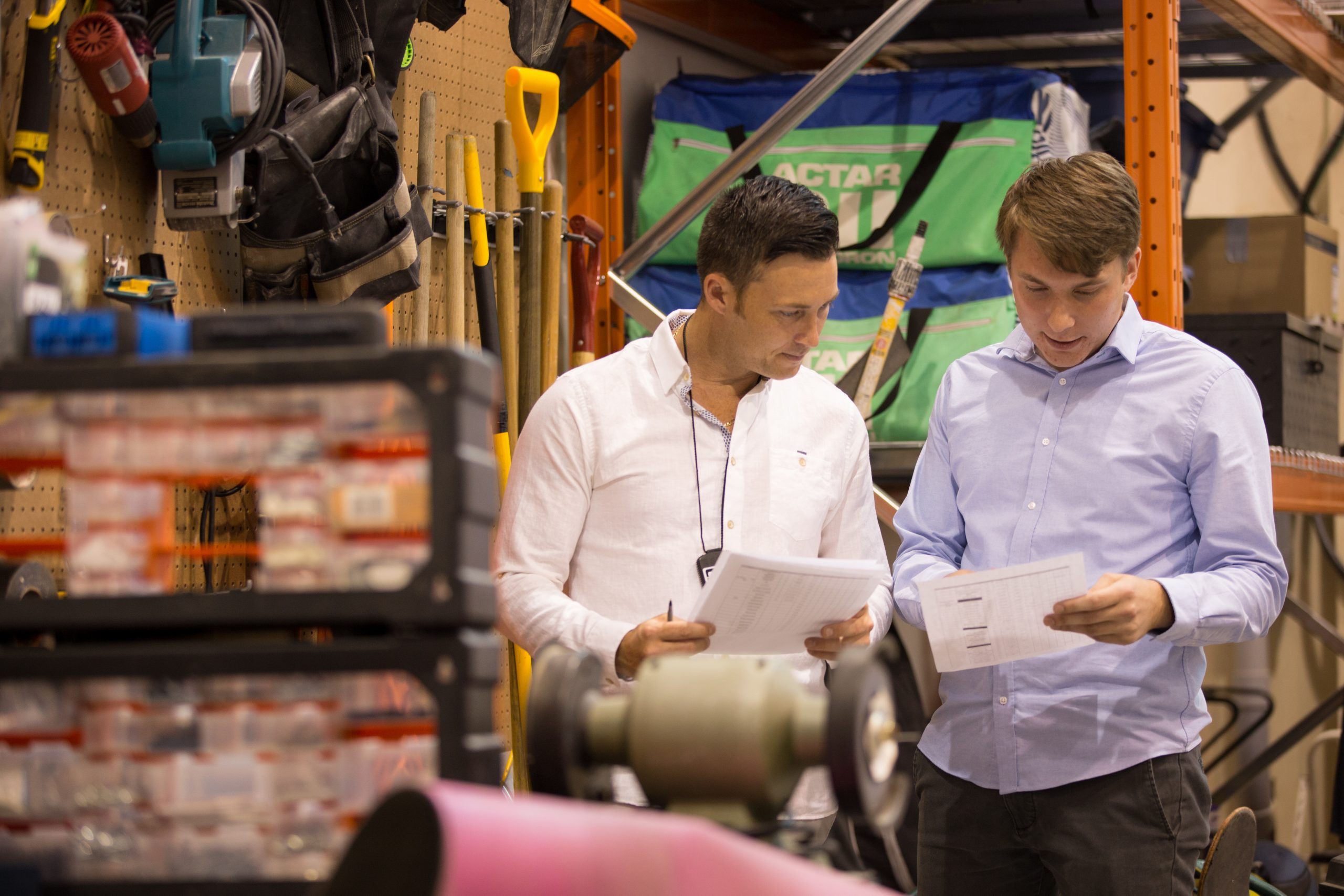 "It's by far the best place I've ever worked. It's casual, and yet you have expectations. I'm motivated just by wanting to support the people here. The culture here is just so great," says Bonetti, who used the experience to develop a clear picture of what he wants in his career.
"It's not that I'm working because I need to, it's because I want to. That's the type of environment where I can apply myself the best."
Irwin's Safety approached UBC Okanagan with a clear vision for what they wanted to achieve, which helped the organization make the most of their Co-op experience. Kuefler describes the hiring process with UBC Okanagan as straightforward, allowing them to find students that would work well within their organization.
"We obviously looked at their skills and qualifications, but more than anything we were looking at whether or not they would be a good culture fit. I was specifically looking for students that I thought would fit into that culture and it worked very nicely."
Interested in Co-op Education?  Prospective employers are encouraged to visit coop.ok.ubc.ca/partners or to contact the Co-op Office directly to post a position.