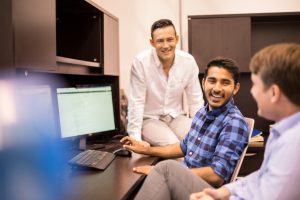 Curious about what tools you'll build as you work through your co-op experiences? We've put together a quick guide to a rewarding co-op experience below.
This resource provides students with helpful tips for a successful work term, and resources to support you through your Co-op journey. To ensure both students and the workplace have a positive experience, please be sure to review the 'Roles & Responsibilities During Co-op Work Terms' Canvas module. As always, please don't hesitate to reach out to the Interdisciplinary Co-op Education Program Office for support or for any questions now or as you transition to the workplace.
Set Learning Goals
Essential practices for continuous personal growth and development include goal setting and self-reflection. In order for goal setting to be an effective tool for personal growth, goals need to be accompanied by an action plan. The acronym SMART is a helpful tool to ensure your goals are relevant and attainable and contains an action plan that allow you track and assess your progress:
Specific results you aim to achieve
Measurable indicators of success (qualitative & quantitative)
an Attainable action plan
Relevant goals that align with organizational objectives
Time-Based parameters to ensure a proactive approach towards achievement of goals
Goal setting is crucial to career development and progression, and is a core tool for guiding students' learning throughout the co-op journey. During each co-op work term you will be required to develop SMART goals, and share these with your supervisor. Sharing and communicating these goals will help support your learning and professional development throughout the experience, and build a strong foundation for internal support along the way. For more in-depth information on setting SMART goals, visit the 'Setting SMART Goals' module in the Co-op Learning Community Canvas Course.
Communicate
With UBC Co-op
Once you have accepted an offer of employment, you are responsible for completing the required update upon securing a Co-op position for each work term, no later than the start of the term by the due dates specified by the Co-op Program Office. Students are expected to respond promptly to all messages from the Coordinator(s) and Co-op staff. A mid-term check-in meeting with a Coordinator, student and workplace supervisor will be arranged, but students can contact the Co-op Program Office at any time regarding questions or to discuss any concerns that they may have about the experience. 
With your Employer
At the beginning of your time in your new role, it is critical to take the time to clearly understand the workplace expectations and ask questions if you are unsure. The tips below will assist you in navigating early conversations with your supervisor and fellow coworkers:
Learn and follow the rules and regulations of the workplace, even if you may witness  colleagues doing something different, make sure to always adhere to the stated rules and regulations
When unsure of work or duties assigned, ask a supervisor for additional
information, or further clarification
When assigned projects, try to work ahead of expectations, provide your
supervisor with regular progress updates, and consider making suggestions  where you have ideas/solutions that can add more value within your work or within other projects
Ask questions, and become an active part of the organizations, get to
know your colleagues, and always be engaged
The Co-op Program Office supports open communication to allow workplaces to find and support their students in having positive and rewarding work experiences. If you are in need of support around starting open conversations with your employer, connect with a Co-op Coordinator, or the UBC Disability Resources Centre (Okanagan campus).
For more in-depth information on building effective communication skills in the workplace, visit the 'Technology and Communication at the Workplace' module in the Co-op Learning Community Canvas Course.
Cultivate and Build Connections
At the workplace (whether remote or in-person), it is important to cultivate and build connections and get to know your co-workers. They can be a source of help, advice, support and learning for you as you begin to navigate your role, and the workplace culture and throughout your time with the organization. Likewise, you can also be a source of help, support and advice to them, as you bring a new perspective to the work and organization.
For more information and resources on networking, visit the 'What is Networking and What are its Benefits' module in the Co-op Learning Community Canvas Course.
Asking for Help
In the workplace, we are all responsible for meeting commitments to each other. If you feel that you cannot meet a commitment (for example, if you will not be able to submit work on time or if you are not able to meet the expectations of the work) and have explored all possible solutions on your own already, then it might be time to ask for help.
Asking for help is a skill: you should know when to ask, how to ask, and what to ask about. If you are unsure about where to start connect with a Co-op Coordinator to explore your next steps.
Wrapping Up the Term
As you come to the end of your work term, make a list of all your regular duties and responsibilities, as well as any outstanding projects or transitional items (if any). This list will be both a useful resource for you in the future and also a checklist to make sure you don't leave any tasks or projects unfinished.
Regular duties and responsibilities: what were the main duties you carried out in your work week or month? If you were not there to carry out these duties, what would happen? Even if you assume that someone else would continue or take over that duty, it is polite and considerate to ensure that your supervisor is aware of the duty or responsibility that needs to be filled.
Outstanding projects or transitional items on your plate: Are there any projects, official or unofficial, that are unfinished? Be sure to inform your supervisor of the project, describing any in-progress items, laying out the next steps, and, if possible, providing instructions for accessing any relevant resources.
Final co-op assignments: As a part of the Interdisciplinary Co-op Program, you are required to complete two end-of-work assignments. Please ensure you complete Assignment #3a (Student Evaluation), Assignment #4 (Work Term Project), and have your supervisor complete Assignment #3b (Supervisor Evaluation), which you can find in your work term Canvas shell.
If you have questions about appropriately wrapping up your work-term, or questions surrounding your end-of-term assignments, please connect with a Co-op Coordinator.
__
At times, it can feel overwhelming to manage your work experience on top of school, your social life, and your family. Each new experience provides you the opportunity to learn new skills, and recognize strengths to help you navigate your future opportunities & challenges, and become more self-aware of personal and professional growth and interests.
As you work through this next chapter, please don't hesitate to reach out to the Interdisciplinary Co-op Education Program Office at any time.